The Vitamin B Family
The members of B vitamin family are key to keep your body energized. Each vitamin from this family has a particular role and some health benefits for your body. For example, the most popular Biotin helps keep your skin, hair, nails, eyes, liver, and nervous system healthy. These supplements are available in many different forms, such as tablets, soft chews, caps, gummies, powder and so on.
• B1 (a.k.a. thiamin) helps keep your appetite stable. The RDA is 1.5 mg for men and 1.1 mg for women. B1
• B2 (a.k.a. riboflavin) also helps with energy metabolism. Riboflavin aids your eyes and works for healthier skin. The RDA for men is 1.7 mg and women should aim for 1.3 mg per day. B2
• B3 (a.k.a. niacin) is actually made by your body. Niacin helps your metabolism, improves the condition of your skin, and supports both the digestive and nervous systems. Since you may have enough B 3 in your diet, the RDA is merely an estimate. Men should get 19 mg per day and women should get 15 mg. B3
• B6 allows you to think more clearly, supports the immune system and hormone activity. The intake of alcohol prohibits your B6 activity, so people who drink should especially watch for their B6 levels. Men should get 2 mg a day and women should get 1.6 mg. B6
• B12 protects your nervous system and supports both bone growth and metabolism. Men and women should get about 2 mg a day. B12
• Biotin (also known as vitamin H) is important for embryonic growth and a crucial nutrient during pregnancy. It promotes healthy hair, skin, and nails. It is also used in a supplement form to regulate blood sugar levels.
• Folate (a.k.a. folic acid) is essential for new cell development. And yet, your body is a snob when it comes to accepting this B vitamin. While you can get folic acid from eating leafy greens, legumes and liver, your body doesn't like to absorb it from these sources. Only half of the folate you get from foods will be accepted. Instead, your body prefers the so-called "free" folate found in supplements. Men should get 200 mg a day and women should get 180 mg per day.
Popular vitamin B supplements
We review supplements and online stores on a regular basis. We compare the most popular vitamin B products, such as tablets, soft chews, gummies, caps, powder and so on, by user ratings, expert opinion, quality, price, buying conditions, and more, to help you choose the best vitamins without paying a lot. Usually, a discount is embedded in the links and you don't have to apply any coupon code at checkout! However, do not forget to visit our COUPON SECTION with the latest discount codes for additional savings.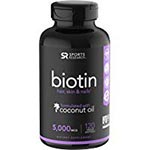 Biotin with Coconut Oil
Price Range: $13.95 - $29.99
Brand: Sports Research
Form: Softgels (gel caps)
Biotin 5000mcg in cold-pressed organic coconut oil
Premium quality. Manufactured, packaged, and bottled in the USA.
Formulated for hair, skin and nails.
SEE BEST PRICE
---
Freebies & Discount Codes
Find out freebies and coupons for savings on health products available on the Web