Fitness, Aerobic, Pilates & Yoga Exercise Balls
Exercise balls are available in numerous forms. There are large pilates balls specifically suitable for pilates exercises. Medicine balls are used as a training aid for a variety of exercises. There are also many different types of balls used in developing accuracy and timing of martial arts strikes and kicks. Anyway, we are talking about swiss balls here.
A Swiss ball is a ball constructed of elastic rubber with a diameter of around 55 to 85 cm (22 to 34 inches). It is used in physical therapy and exercise. The Swiss ball is also known under several different names, including exercise ball, gym ball, pilates ball, sports ball, fit or fitness ball, stability ball, therapy ball, yoga ball, balance ball, body ball, and so on. It is larger and lighter than a medicine ball.
An exercise ball can also be used to help treat low back pain and to prevent future back pain episodes. The ball helps by strengthening and developing the core body muscles.
Choosing An Exercise Ball
Before you buy an exercise ball, make sure it's the right size for your height. To test it, sit on the ball and make sure your hips are level or just slightly higher than the knees:
• 55 cm - 4'11" - 5'4" (164 cm) tall or shorter
• 65 cm - 5'5" - 5'10" (166 – 177 cm) tall
• 75 cm - 6'0" - 6' 7" (above 177 cm)
How To Use Your Exercise Ball
Exercise balls challenge by putting your body in an unstable environment. When you lie on the ball, your legs and abs immediately contract to keep you from falling off. Add an exercise to that (like a chest press or a crunch), and you've just increased the intensity of the movement. Bonus: Exercise balls are versatile enough to use for just about anything, including:
• Weight training. Use the stability ball as your new 'weight bench' to add difficulty to the movements and incorporate the muscles of your legs, butt and abs.
• Abdominal training. Doing crunches, twists and other traditional exercises on the ball adds difficulty to the movement by recruiting more muscles.
• Sitting around. Just sitting on an exercise ball can be a challenge and it's a great way to improve your posture when sitting in front of a computer or watching television. Practice by sitting on it and raising one foot off the ground and balancing or try some of these beginner ball exercises.
• Flexibility, yoga and pilates exercises. The ball is great for stretching and relaxing, such as in this Relaxing Stretch on the Ball workout or this Yoga on the Ball workout.
• Playing around. It's a workout tool but, don't forget, it's also a ball. Your kids will love playing with it, just keep an eye on them so they don't hurt themselves.

One of our visitor wrote an article about weight loss training. He used a fitness ball within the process of loosing his unwanted weight. Here you can read the article "Weight Loss Exercise" and learn how to use a fitness ball properly.
Where To Buy An Exercise Ball
Although they are available in almost every fitness store, you can save some money if you buy fitness balls online. Below are listed safe online place where you can purchase exercise balls at affordable prices. We review online stores and their offers on a regular basis. We compare them by user ratings, expert opinion, quality, price, buying conditions, and more, to help you choose the best exercise ball without paying a lot.
We browse online stores every day, looking for the lowest prices for you and the best place for online shopping. Usually, a discount is embedded in the links and you don't have to apply any coupon code at checkout! However, Do not forget to visit our COUPON SECTION with the latest discount codes for additional savings on already reduced prices.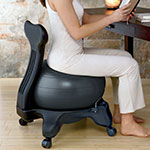 Balance Ball Chair
Price Range: $59 - $79
User Capacity: 300lbs (136kg).
Brand: Gaiam
Ergonomic back support. Removable balance ball can be used for exercises on and off the chair. Air pump, chair, wheels, and desktop exercise guide included. Designed for 5 ft. - 5 ft. 11 in. height.
Dimensions: 22 diam. x 31H inches
SEE BEST PRICE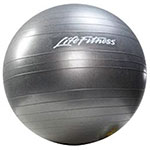 LifeFitness Stability Ball
Price Range: $39.34 - $58.65
User Capacity: Static weight rating of 1,250lbs. (567kg).
Brand: Life Fitness
Fitness club quality. The LifeFitness stability ball is a great way to improve balance and core fitness, or add variety to your small group training regimen.
Available dimensions: 55cm; 65cm; and 75cm
SEE BEST PRICE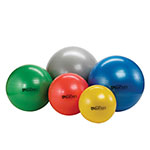 Exercise Balls
Price Range: $8 - $179
User Capacity: Diverse.
A wide range of many different types of exercise balls. Visit the link to see the available options and find the best price for your budget.
Dimensions: All
SEE BEST PRICE
---

Freebies & Discount Codes
Find out freebies and coupons for savings on health products available on the Web