TENS or EMS Machine?
There are two types of electronic muscle stimulation machines: TENS and EMS. So, what's the difference between them? Both systems send electrical pulses through the skin to the underlying peripheral nerves. While EMS devices cause the muscles to contract, TENS units stimulate the nerves. Accordingly, EMS devices are used for muscle building, while TENS units are designed to provide a pain relief. Which one do the job for you depends of what you want to achieve. The best option could be TENS / EMS combo units (yes, some of them offer both options).
We review light-commercial and home models of electronic muscle stimulators on a regular basis. We compare them by user ratings, expert opinion, quality of construction, price, buying conditions, and more, to help you choose the best machine without paying a lot.
How To Buy A Muscle Stimulator
We browse online stores every day, looking for the lowest prices for you and the best place for online shopping. Usually, a discount is embedded in the links and you don't have to apply any coupon code at checkout! However, Do not forget to visit our COUPON SECTION with the latest discount codes for additional savings on already reduced prices.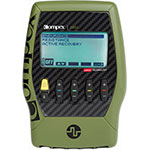 Compex Edge
Price Range: $159 - $275
Type: EMS + TENS
Programs: 4
Help build Type II muscle fibers, Endurance, and battle back against sore muscles through Recovery
Included: 8 x Single snap electrodes 2in x 2in; 4 x Dual snap electrodes 4in x 2in; Set of electrode cables; Ni-MH reachargeable battery; Wall charger; Carrying case; User guide.
SEE BEST PRICE
Still not sure which muscle stimulator would you like to buy?
We had great help from guys who are experts in this field. Here you can find all of their muscle stimulator in-depth reviews..
---
Freebies & Discount Codes
Find out freebies and coupons for savings on health products available on the Web