The Best Quality Ellipticals To Buy
If you are a novice in the fitness world, probably it's difficult for you to decide which elliptical trainer you should buy. In the ocean of advertisements, it's almost impossible to determine which brands are actually the best ones. Choosing the best elliptical trainer depends of the intensity and frequency you would use it and moreover it depends of your budget. It could be an elliptical machine which has a bunch of features, but don't forget what are your individual needs. Your elliptical cross trainer can have built-in speakers and tablet compatible console, but this wouldn't be so important if it's made of low-quality materials and the pedals crack down, for example.
We review light-commercial and home models on a regular basis. We compare them by user ratings, expert opinion, quality of construction, price, buying conditions, and more, to help you choose the best elliptical trainer without paying a lot.
How to buy an elliptical machine?
We browse online stores every day, looking for the lowest prices for you and the best place to buy an elliptical machine. Usually, a discount is embedded in the links and you don't have to apply any coupon code at checkout! However, Do not forget to visit our COUPON SECTION with the latest discount codes for additional savings.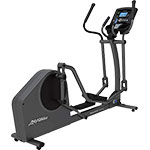 LifeFitness E1
Price Range: $2199 - $2599
User Capacity: 400lbs (182kg)
Stride Length: 20 inches
Resistance: 20 levels
Features: Wireless HRM, Maintenance-free ball bearings, Choice of consoles, Accessory tray, Bottle holder.
Dimensions: 82" x 30" x 59"
SEE BEST PRICE
Still not sure which elliptical would you like to buy?
Elliptical machines (also known as elliptical trainers) are exercise equipment that combine the movements of the stair climber, treadmill, and the exercise bike into one. If there ever was a perfect cardio machine, an elliptical trainer machine it may be. It combines the movements and benefits of hiking, cross country skiing, and biking. With an elliptical trainer machine, your legs travel in an elongated circular motion.
It's as if you are standing on a cross country ski machine but instead of your feet moving back and forth, the machine forces them to move around in an oval pattern (hence elliptical).
With quality elliptical trainer machine, you feel the movement as fluid. The good thing about elliptical trainer machines is that it doesn't create any impact, so it's easy on your joints.
If you have never used an elliptical cross trainer before, don't be intimidated by its appearance. It's actually one of the most comfortable pieces of exercise equipement you'll ever try as well as the most effective. There are many benefits of using an elliptical trainer but probably one of the most important benefits is the absence of impact. You get all of the benefits of weight bearing exercise without the joint stress.
Now, choosing an effective elliptical trainer is another story. Just try and find an elliptical trainer that suits your needs. There are some really fantastic elliptical trainers out there, but of course, some of the better models cost money.
---
Freebies & Discount Codes
Find out freebies and coupons for savings on health products available on the Web