Turmeric Curcumin with Bioperine (black pepper) Review
Turmeric is a plant form from south Asia (India) that belongs to the ginger family. It has been used in Chinese and even Egyptian medicines for centuries. Also, it has been long used as a botanical supplement in Ayurvedic medicine (known as haridra). Curcumin is a natural constituent of Turmeric, produced by a plant itself. It is a powerful antioxidant and has intense anti-inflammatory effects. In some online reviews we foulnd that it can help you lose weight. However, most of the turmeric curcumin dietary supplements are formulated for pain relief and joint support.
Best Turmeric & Bioperine Supplements
Although there are dozens of turmeric-containing formulations, not all are equally popular. For some reason the Turmeric Curcumin complex with Bioperine (black pepper) is demanded as much as all the other products together. Thus, we have made a list of the best selling turmeric curcumin supplements: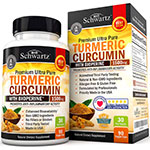 Turmeric Curcumin With Bioperine
Price Range: $27.49 - $29.99
Serving Size: 1500mg
Brand: Bio Schwartz
Supplement Form: Veggie capsules
Ingredients: Turmeric root 1350mg; Turmeric extract 150mg; Black pepper extract (Bioperine) 15mg.
Other: All naturall supplement. No fillers or binders. Made in USA.
SEE BEST PRICE
---

Freebies & Discount Codes
Find out freebies and coupons for savings on health products available on the Web