What To Do About Freckles And Skin Pigmentation
Freckles appear early in life, increase in number during summer months and fade in winter. After the age of 40-45 they disappear, but who wants to wait?
A skin pigmentation, such as age spots are similar to freckles. They appear later in life and can occur in any skin type. If you know why the discoloration occurs and take measures to prevent and treat it, you can have an even skin tone at any age.
What To Do?
If you want to avoid skin discoloration, the first and the most important thing you need to do is to avoid sun exposure and wear sunscreen. This way your body will not need to produce more melanin (melanin is produced by the body in response to sun exposure). Since melanin is accumulated in the upper layer of the skin, you might want to consider skin lightening and peeling. There are several different products that can be used for this purpose. We are taking about safe and natural treatments for freckles and pigmentation (skin discoloration) removal:
Natural Remedies
• Wash your face with sour milk. Lactic acid will provide gentle peeling effect without irritating or drying your skin.
• Lemon juice is a time-proven freckle fighting remedy. It is not necessary to rub your skin with a piece of lemon. Applying the juice with your fingers will do the job.
• Fruit and vegetable masks (apricots, strawberries, cucumbers, red currant).
• Sour cream mask. Do not rinse this mask completely, just remove gently with a facial tissue, then apply a moisturizer. For oily skin - use lemon juice before applying the mask.
• Natural parsley juice (or parsley infusion) mixed with equal amounts of lemon juice, orange juice, and red currant juice under your favorite cream will help you keep your freckles invisible.
• Increase your Vitamin C intake! It makes your skin less sensitive to the sun. Foods rich in vitamin C include citrus fruits, apples, green onions, black and red currant, rosehip tea.
Best Creams For Freckles And Pigmentation Removal
Over the years, we have learned about many treatmens, creams, oils, and all kind of products for freckles and pigmentation removal. We have read a lot of reviews and received dozen comments by real users. Some of these products were real scams, so weren't last long on the market. Some of them really work and still stand. Here are listed safe and effective creams for age spots, freckles, unevenness of skin color and other discolorations of the skin, along with the links to online stores offering the best buying conditions for each of them: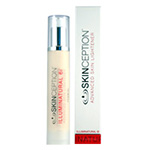 Illuminatural 6i
Price Range: $49.95 - $53.59
Brand: SkinCeption
Proven for reduction of: Freckles, Birthmarks, Dark inner elbows & knees, Age spots, Sun spots, Liver spots, Acne scars, Old scars, Melasma, Chloasma, Hyperpigmentation, Post inflammatory hyperpigmentation andSenile lentigines.
A natural skin serum, formulated with gentle ingredients, including: Alpha-Arbutin (derived from berries and fruits); Beta Glucan (considered a natural alternative to Botox); Niacinamide (a form of vitamin B3).
SEE BEST PRICE
---
Freebies & Discount Codes
Find out freebies and coupons for savings on health products available on the Web