How to achieve the Britney Spears hair style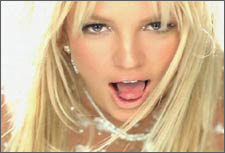 Popular music star Britney Spears shows off one of her creative hair styles with a Wind Blown " textured" look with a cross over part. On the stage and under the lights this style shines and holds it shape.
This style works best if hair is straight or has a loose wave. Start with a long layered face framing style cut adjusting the length to fit your face. If you love long hair but feel your all one length look is pulling your down....this style could be perfect for you. Works well for most face shapes.
To Get This Look This style requires a few extra steps to achieve the desired effects. If hair is wavy & curly hair, begin by combing a dab of Spray Gel or Straightening Balm through damp hair, section and blow dry with round brush to smooth surface and relax the wave or curl. When dry, use a large round barrel or flat styling iron to smooth & roll ends. Bend head down and brush all the hair forward and flip hair back , brush, tousle. Optional; for textured effect, work a puff of foaming pomade through, tousle and mist with super light hold finishing mist.
For Straight Hair, comb a puff of gel mousse through damp hair, blow dry and roll ends with large barrel styling iron or set with large electric rollers. Remove curlers, brush hair forward and spray under layers with a special effects styling spray for hidden style support. Optional, for texture effect and shine, brush a puff of foaming pomade through hair and mist with finishing hair spray for shine and hold.
Hair Color: blonde on blonde / multi toned weaving technique.
---

Freebies & Discount Codes
Find out freebies and coupons for savings on health products available on the Web