Recumbent (Recliner) Exercise Bikes
Recumbent exercise bikes are exercise bikes with armchair-like or recliner seat. Your body is placed in a semi reclining position and your legs angle out in front of you to reach the pedals instead of hanging down as on an upright bike. Sit back in a "chair" or bucket seat as you pedal. Buying an recumbent exercise bike is excellent solution for anyone with back problems.
We review exercise bike models on a regular basis. We compare them by user ratings, expert opinion, quality of construction, price, buying conditions, and more, to help you choose the best exercise bike model without paying a lot.
How to buy a recumbent bike?
We browse online stores every day, looking for the lowest prices for you and the best place to buy a recumbent exercise bike. Usually, a discount is embedded in the links and you don't have to apply any coupon code at checkout! However, Do not forget to visit our COUPON SECTION with the latest discount codes for additional savings.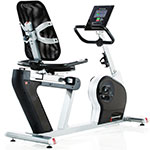 Diamondback 510Sr
Price Range: $799 - $899
User Capacity: 300lbs (136kg)
Resistance: 16 levels
Programs: 20
Features: Adjustable console, Adjustable handlebars, MP3 compatibility, Speakers, Cooling fans, Magazine rack, Bottle holder.
Dimensions: 64" x 23" x 50"
SEE BEST PRICE
Still not sure which exercise bike would you like to buy?
You may want to see the other exercise bike types:
---
Freebies & Discount Codes
Find out freebies and coupons for savings on health products available on the Web