Antioxidants
Antioxidants are molecules that slow or prevent the oxidation of other chemicals. Antioxidants guard against the free radical theory of aging. Antioxidants slow oxidation, a natural process that leads to cell and tissue damage. Many healthy people use antioxidant supplements to protect against cancer. Some cancer patients use antioxidants in the belief that the supplements will slow cancer progression or reduce the side effects of cancer treatment. However, scientists have not yet determined whether antioxidants truly prevent or slow the disease.
Food is the best source of antioxidants (vitamins E and C and beta carotene). Antioxidants can be also taken in a dietary supplements form.
Where can I buy antioxidant supplements?
We review the fitness online market on a regular basis. We compare antioxidant supplements by user ratings, expert opinion, quality, price, buying conditions, and more, to help you choose the best supplements without paying a lot.
We browse online stores every day, looking for the lowest prices for you and the best place for online shopping. Usually, a discount is embedded in the links and you don't have to apply any coupon code at checkout! However, Do not forget to visit our COUPON SECTION with the latest discount codes for additional savings on already reduced prices.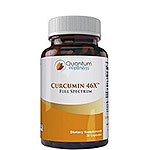 Curcumin 46x
Price Range: $39.95 - $49.95
Brand: Quantum Wellness
This is one of the best turmeric & curcumin supplements for inflammation. With over 500mg per serving Curcumin Full Spectrum 46X delivers powerful anti-aging and cardiovascular health properties.
Dietary supplements by Quantum Wellness Botanical Institute contain only the best quality ingredients. Yet, they are not too expensive.
SEE BEST PRICE
Still not sure which brand would you like to buy?
One of the largest selection of sports supplements you can find on Professional Supplement Center. We sincerely recommend you to visit their official website. Here is the link for you.
---

Freebies & Discount Codes
Find out freebies and coupons for savings on health products available on the Web